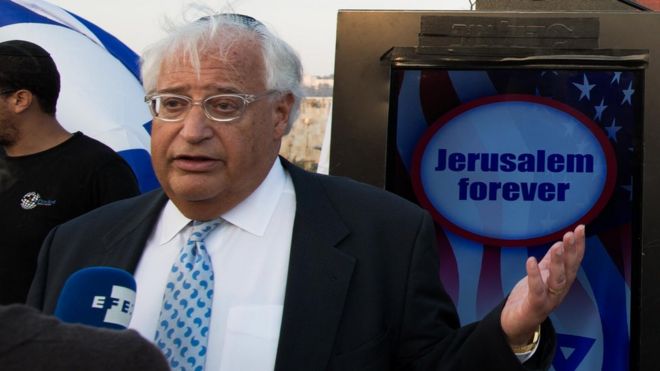 US President-elect Donald Trump has chosen right-winger David Friedman as America's next ambassador to Israel.
The 57-year-old lawyer is strongly critical of the long-held US goal of a two-state solution to the Israeli-Palestinian conflict.
He also supports Jewish settlement building in the occupied West Bank, which the Obama administration considers an "obstacle to peace".
A liberal Jewish group opposed his nomination. Conservatives welcomed it.
Mr Friedman said he looked forward to working "from the US Embassy in Israel's eternal capital, Jerusalem", a statement that will anger Palestinians.
The United Nations does not recognise Jerusalem as Israel's capital, and the US embassy has been located in Tel Aviv for decades.
But Mr Trump had promised during the presidential campaign to move it to Jerusalem, one of several overtures he made to Israel.
The status of Jerusalem is one of the most contentious issues between Israel and the Palestinians.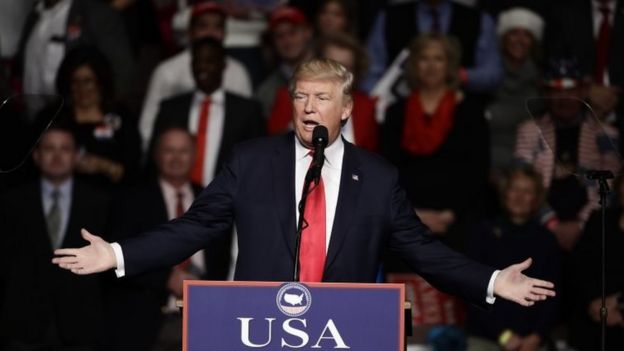 Israel occupied the West Bank and East Jerusalem in the 1967 Middle East war and considers the entire city its indivisible capital; Palestinians want East Jerusalem as the capital of a future Palestinian state.
Settlement supporter
Mr Friedman advised Mr Trump on US-Israel issues during the election campaign.
He has made clear his support for Jewish settlements in the West Bank, which he refers to using the biblical names of Judea and Samaria, and East Jerusalem.
About 570,000 Israelis live in more than 130 settlements built in these areas since 1967.
The settlements are considered illegal under international law, though Israel disputes this.
J Street, a liberal pro-Israel group based in Washington, said it was "vehemently" opposed to the nomination of Mr Friedman.
"As someone who has been a leading American friend of the settlement movement, who lacks any diplomatic or policy credentials and who has attacked liberal Jews who support two states as 'worse than kapos', Friedman should be beyond the pale for senators considering who should represent the United States in Israel."
Kapos were Jewish prisoners in Nazi camps in World War II who the SS put in charge of other inmates. They have been viewed by some as complicit in the brutal treatment of other prisoners.
The Zionist Organization for America, a conservative US pro-Israel group, welcomed the nomination, saying Mr Friedman had "the potential to be the greatest US ambassador to Israel ever".
Israeli Prime Minister Benjamin Netanyahu, who has not enjoyed warm relations with Democratic President Barack Obama, has welcomed Mr Trump's election.
---
David Friedman
Bankruptcy attorney who has represented Mr Trump in connection with his investment in Atlantic City casinos
Grew up in Woodmere, New York; graduate of Columbia College and New York University Law School
Supporter of Jewish settlement in the Israeli occupied West Bank (which he refers to as Judea and Samaria); President of American Friends of Beit El Institutions – which raises money for the settlement Beit El
A fluent speaker of Hebrew, whose Bar Mitzvah was held in Jerusalem at the Western Wall, Mr Friedman owns a residence in Jerusalem and says he has probably visited the "Holy Land" more than 100 times
Has strongly criticised a two-state solution to the Israeli-Palestinian conflict as a "illusion", accusing the Palestinian leadership of corruption and saying Palestinians do not care whether they are ruled by Palestinian Authority President Mahmoud Abbas or Israeli PM Benjamin Netanyahu
Has suggested Israel could annex the predominantly Arab-populated West Bank while retaining its Jewish character
[Source:-BBC]