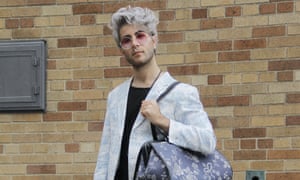 When An Innocent Fashion was published in the summer Vanity Fairbreathlessly called it The Devil Wears Prada for millennials. Like Lauren Weisberger, 26-year-old author R J Hernández interned at Vogue and had seemingly written a tell-all about his experiences. "A lot of the book was inspired by my time working at Vogue and then afterwards at Elle and W magazine. I took my experiences and made them something new," he says on the phone from LA.
But, unlike Weisberger's David v Goliath battle with an Anna Wintour-ish Miranda Priestly figure, An Innocent Fashion is a tussle of identity politics set against a background of fashion. With the rise of transgender models like Hari Nef and the issues of diversity on the catwalk swirling about, the publication of the book is timely. "I think that, at the moment, there's an attempt to be more accepting of diversity," says Hernández. "But, in reality, I feel like that's happening because it's a trend. No one in fashion really cares about a diverse world."
Hernández, a Cuban-American, who describes himself as "a person of colour and a queer person", says that when he first entered the doors of US Vogue he felt out of place. "Looking at the people at Vogue passing through the office and the girl who interviewed me, I thought that there's no way a Latino boy from modest means could fit into this world."
Growing up in Miami, he aspired to escape what he calls his "provincial" surroundings, but there was a big problem. "I felt like the American Dream was this white thing."
The protagonist of An Innocent Fashion, Elián San Jamar, reinvents himself as Ethan St James. Similarly, Hernández renamed himself after the JD Salinger character Seymour Glass. "I thought, 'Why not change my name and become the person who belongs at Vogue? In the book, Ethan's biggest advantage is that he can pass for white.'" For Hernández this name change bled into his entire external life, giving him permission to exaggerate his wardrobe and his personality. He says that it allowed him to ingratiate himself into Vogue's inner sanctum but that there was a price. "The identity that I was embracing was taking over and it could be read as a 'rich white person'". His increasingly eccentric clothing choices – specifically a pair of shoes with four-inch-high heels – signalled the end of his time at Vogue. He claims that he was let go for wearing clothes that were deemed not appropriate for an intern. "Working in a glamorous environment doesn't afford you the licence to express yourself more than Wall Street," he says.
Another illusion that was shattered was that of the American Dream. "Ethan wants to get power, but he belongs to a group of people who have the biggest disadvantages in the country."
Does the publication of An Innocent Fashion, the TV rights which have been sold under his real name suggests he's in a better place? "I've grown up for such a long time feeling inferior about my background, and now it's possible to view my background as a strength and not a weakness." Which sounds very much like a happy ending to us.