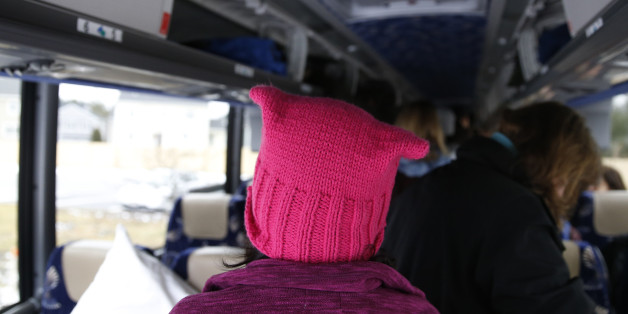 I realised that feminism is well and truly in fashion when I was in New York during the city's famous Fashion Week earlier this year. But it wasn't the bloggers' miles of digital coverage or my Instagram's overwhelming feed of front row fashion news that gave me this revelation. Instead, it was my conversation with Freddy, my friends' nine-year-old son, who made me reconsider feminism in fashion. Sitting over his bowl of overflowing Coco Pops, he casually told me how popular Pussy Hats are in the US. "Everyone's wearing them," he said.
For the uninitiated, Pussy Hats are pink, woolly hats with pointy ears that proliferated during the recent Women's Marches. Catalysed by Trump's victory, the hats signify a strong statement about gender equality. Yet coming from a child who is (presumably) more interested in football and Pokémon than fashion and Pucci, my attention was pricked.
The true beauty of fashion is not the colours or shapes it comes in. It's what fashion says about the state of the world that interests me. I've always loved working in fashion – through founding Redress, the NGO reducing waste in fashion, and co-founding the social impact up-cycled fashion brand, BYT – because fashion is a reflection of our times. If you scratch beneath the silk, hair spray, marketing and makeup you find an industry that evolves according to what's going on around us. At their best, fashion designers are cultural commentators.
So after Freddy's comment about Pussy Hats, I was on higher alert for signs that feminism has resurfaced into the forefront of fashion.
A few days later, the fashion week baton moved from Manhattan to Milan, bringing along with it teems of tiny models, cases of foundation and swarms of fashion journalists. And on the hallowed Milan runway, the famous family-run Italian knitwear brand, Missoni, who is better known for colourful knits, sent their models down the runway wearing pink Pussy Hats (naturally, these were customised with a certain Missoni flare) and all the show's guests, regardless of gender, received their own hat. This was a fashion and political message to push the need for women's equality, proving that you don't have to own a pussy to support gender equality.
I then looked elsewhere and saw that many of the world's top designers also featured feminist statements down the runway. Cue Dior's "We Should All Be Feminists" T-shirt, which was echoed by a flurry of other designers touting slogans such as "Full Time Feminist" and "The Future Is Female".
For a moment, I almost felt sorry for the men of the world. But this is mere tit-for-tat because gender equality is serious business. The United Nations Secretary General, António Guterres, recently said that "Gender equality is key to development and there is growing evidence of its critical role in building and maintaining peace."
But we should be applauding the Pussy Hats and the slogan T-shirts because they signify a change in mood.
And there's also a change in mood when it comes to money.
Women are getting richer, whether you have personally noticed it or not. UBS this year reported that women's global wealth is expected to grow. Over the next five years, UBS predicts the amount of private wealth controlled by women will grow seven percent per year1. But what's exciting about these wealthy women is that they are reportedly more focused on financial investments that bring about social good, so much so that women are expected to invest $2.3 trillion into ethical causes by 2021. I'm applauding! These wealthy women can invest their way into a better fashion system that respects women and the environment.
But girl power is not just for the ultra-high-net worth. Whether we shop in Prada or Primark, women can control fashion. Around 60 percent of apparel purchases are in the womenswear department and beyond what we buy for ourselves, women drive up to 80 percent of consumer purchasing. So by women's heightened ethical values, we can shop our way into a fairer industry.
Because ultimately, if we want to don Pussy Hats and slogan T-shirts and hit the streets championing gender equality, we must remember that most clothing purchases affect women; whether in Cambodia, China, Laos or Lagos. It's estimated that 80 percent of garment workers are women, many of who may be working under inhumane conditions making cheap clothes for the world. Contrast this to the fact that none of the heads of the world's 15 largest mass-market apparel companies on the Fortune 500 list are women, and you see why there is still a need for the feminism movement.

Christina visits a garment manufacturer in Bangkok. Follow her journey on Instagram @DrChristinaDean.
If feminism is really in fashion with a vengeance, we need to champion more than the slogan T-shirt and Pussy Hat. We need to salute the power of women to invest and shop our ways into a better future, by supporting ethical brands and more equitable and transparent supply chains that empower women, from the bottom of the ranks to the top.
So next time I'm in New York, I'll check in with little Freddy, who is currently volunteering in remote Africa with disabled and orphaned children, many of them girls. And I'm sure he'll have something interesting to say about that too.
REFERENCE
1 Ernst & Young LLP (2016) Harnessing the power of women investors in wealth management
This post is part of our "Reclaim" initiative, which showcases solutions to the issue of fashion waste and engages our readers to take action. You can find all the posts in this initiative, as well as feature pieces, investigative stories and video, here. Follow the initiative on Twitter at #Reclaim.
[Source:-huffingtonpost]