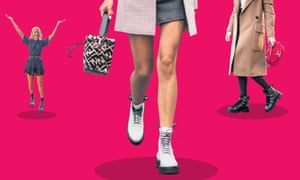 The temperature dial has dropped, puddles are getting bigger, and those Stan Smiths aren't cutting it – cue winter's secret weapon: the stomping boot.
It's a part-hiking, part-snow boot with Dr Martens punk attitude. It is usually lace-up with a shearling or faux-fur trim, and the clumpier the better. Most importantly, it is waterproof and warm. But we will leave Millets to extol the virtues of practical footwear – we're here to tell you that it is now perfectly acceptable to wear it not just for walking the dog, but as a bona fide fashion statement.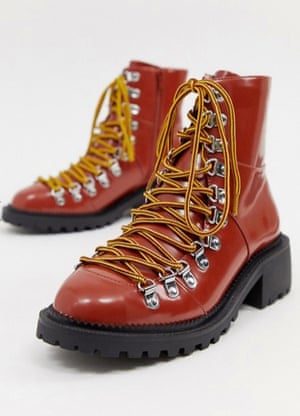 Countless catwalk brands have stamped the trend on the style landscape – most notably Louis Vuitton, Gucci and Moncler. The luxury online retailer Net-a-Porter says Prada is a bestseller and stocks styles priced from a reasonable £135 by Sorel, to a more extravagant £995 by Christian Louboutin. The options at the other end of the spectrum are just as chic. Marks & Spencer has a chunky lace-up pair for £45, New Look's contrast lace pair cost £34.99, and Dr Martens Kolbert Snowplow boots come in at £140.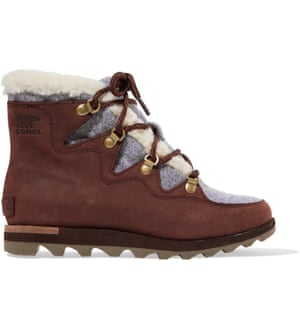 The stats back it up. In October Dr Martens revealed that its sales and earnings are on the rise, while the global fashion search platform Lyst says searches for hiking boots have increased 46% over the past six months. At Asos, hiker-style boot sales are up 74% compared with last year. The online retailer's own-brand £45 Apex style, which comes in two colourways, went on sale in early October and promptly sold out of all 2,500 pairs. Its Ablaze style, priced £40, is still available.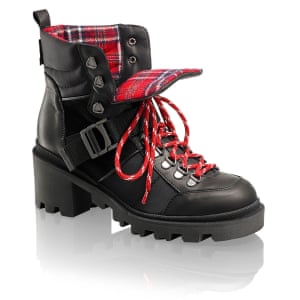 More traditionally associated with men, it is no surprise that the stomper boot is enjoying a renaissance in womenswear right now, says Dr Carolyn Mair, the author of The Psychology of Fashion. "Unisex clothes make a statement that women really do want equality, not only in what they do at work and home, but also in how they dress. This movement has been on the back burner for years, but the #MeToo movement and the scandal over pay inequality has pushed it forward. These days fashion is moving more towards how a woman dresses for herself as much as she does for any man or woman."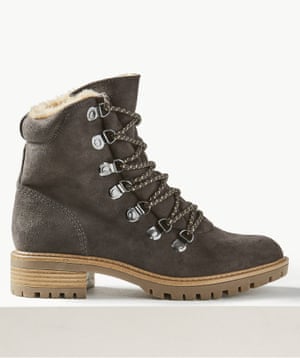 Their surge in popularity reflects the influence of street-style stars – who wear theirs with everything from floaty maxiskirts and chunky jumpers to tights and shorts – and stars such as Zoë Kravitz and Keira Knightley. It is likely to become even more popular because of the TV presenter Holly Willoughby, who, this week, chose to wear not one but two different styles of tough-talking boots, by Grenson and Russell & Bromley, for her jungle debut on I'm A Celebrity, alongside co-host Declan Donnelly. For someone who has built a 4.4 million Instagram following using the hashtag #HWStyle and whose selling power is so great that M&S has pinned its hopes on the star to sell its new-season wardrobe, Willoughby's track record shows that if there is anyone who can take a trend mainstream, it is her – and maybe make headway with gender stereotypes in the process.
"These sorts of boots make a statement about the wearer, which is the opposite of the passive, look-at-me image portrayed by very high heels that look difficult to walk in – these boots say comfort comes before passive sexuality," says Mair. "The more we see images of women doing something physical or at least wearing clothes designed for action, rather than just standing staring into space to be objectified, the more women are portrayed as cognisant beings."
["source=forbes]