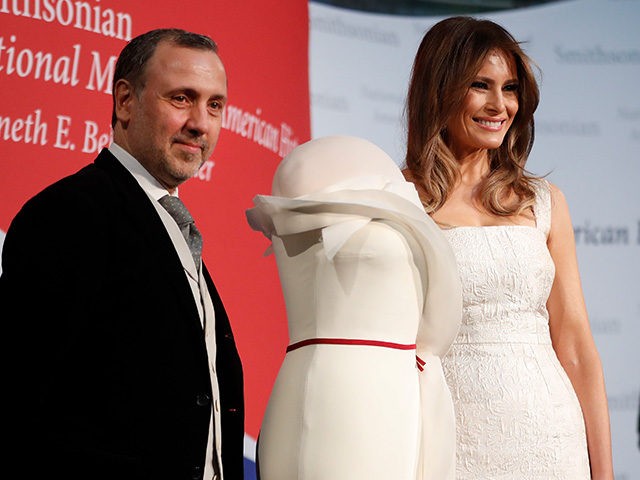 First Lady Melania Trump's personal stylist, designer Hervé Pierre, will soon unveil a collection of crafted, high-end dresses in a mini collection.
In an interview with Women's Wear Daily (WWD), Pierre — the designer behind Melania'siconic silk crepe inaugural gown — explained how the collection of 12 dresses will be a glimpse into how he believes fashion should operate.
Pierre told WWD:
"There are so many people who just put their name on clothes and they don't have the training. At least with Nicolas, it is a relationship between the head of a sample room, a premier atelier as we say in French, and a designer," Pierre said. "That's how a good dress is born. We work on the mannequins and ask, 'How can we do this?' There is a true discussion because a collection is not just a sketch that you send somewhere and it's done. A designer without a sample room is really nothing. One designer is not enough. You need people who create the craftsmanship, including the girls who sew everything."
Designed in partnership with New York City's most sought-after patternmaker, Nicolas Caito, who's created patterns for brands like Rochas and Calvin Klein and worked on the sample-making of Melania's inaugural gown, Pierre's collection has yet to be seen by Melania.
Pierre, a traditionally French-trained designer who formerly worked for Carolina Herrera, Oscar De La Renta and Balmain, said Melania is "very excited," though he admits the collection is not an homage to the former model First Lady.
"She doesn't really know exactly all of the details, but she is aware. She is very excited, of course. It has nothing to do with her. When I look at the collection, maybe two pieces would be for her," Pierre told WWD. "But I didn't design with her in mind. I believe a good designer is also a good merchandiser. You cannot put all your eggs in the same basket. I decided I needed a little sack dress, a form-fitted one, another for a bigger bust, and one for bigger hips — a V-neck, a crewneck, sleeves, no sleeves. You have a grid and you try to find an answer for every category."
The collection of 12 dresses will be featured next month in black and navy and entirely free from the fast-turning trends of the fashion industry. Instead, the dresses — priced between $1,700 and $7,000 — will be subtle yet chic.
"What we see all over the news, on Instagram and on social media, is just people who want to show their wealth, money and whatever," Pierre told WWD. "But there are so many layers of women who I know who absolutely don't want to exhibit their wealth or stature. It's a hidden luxury. That, I respect completely. I'm not part of it because I don't have this kind of lifestyle. I'm a witness."
"I really don't know where this is going," Pierre continued talking about his collection. "If it's successful, of course I will have the huge ego of a king and I will be unbearable. But for the moment, I am walking on eggshells and I am trying to do things step-by-step. For me, if success comes, it will be from people buying my clothes and wearing them. It won't just be vitriol."
["Source-breitbart"]