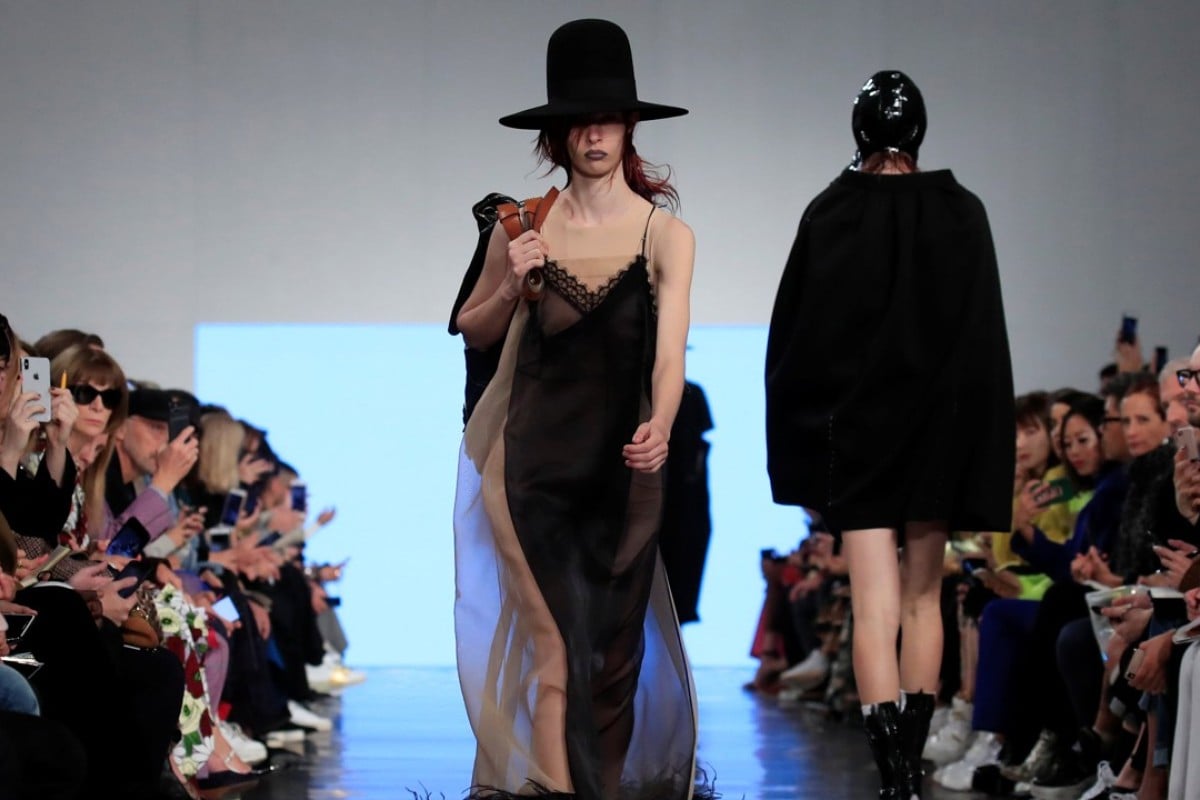 \
Maison Margiela went co-ed at Paris Fashion Week on Wednesday as the luxury French brand's designer, John Galliano, bravely championed gender difference in a powerful new runway show.
Its an important issue everywhere, but particularly in the image-driven global fashion industry, which has intentionally blurred the definition of – and boundaries between – men's and women's clothes in recent years to produce genderless designs.
Saint Laurent makes a splash at Paris Fashion Week
Courrèges' new designer, Yolanda Zobel, unveiled her debut collection and Dries Van Noten delivered a visual ode to flowers.
Here are some highlights of the spring/summer 2019 shows:
MARGIELA SHOW GOES CO-ED
It was a bold statement against what Margiela called "binary stigmatisation" of women's and men's styles.
It made for a creative catwalk show trumpeting genderless fashion and featured unisex wardrobe staples, such as "the overcoat, the caban, the cape".
Gucci's Alessandro Michele shows off his eccentric side at Paris Fashion Week
They were snipped away to deconstruction by designer Galliano's talented scissors.
A bow on a party dress in salmon floral satin jacquard stylishly hung off a grey menswear jacket.
A sparkling gold cape dress, modelled on a shaggy haired man, had incisions and a weight that evoked a men's coat.
While the gender-bending was the dominant theme, other plainly fun references were sneaked in – such as a lace dress bonded with sheer georgette to evoke swimwear.
Ferragamo collection features shades of the Tuscan countryside at Milan Fashion Week
It was what the tongue-in-cheek house dubbed "appropriating the inappropriate".
GALLIANO LAUNCHES GENDER-AWARENESS THEMES
In the guise of Margiela's new "Mutiny" perfume launch, guests at the Wednesday morning show were educated with a powerful short film about gender.
Margiela is one of the first houses to confront and explore the thinking behind this industry-wide approach, which has crept into many of Paris's major catwalk shows almost unexplained, including Kenzo, Givenchy, Saint Laurent and Vivienne Westwood.
Some attribute the decision to merge male and female designs to financial pressures (given that it is less costly to show both in one go), yet others see it more societally, given that the West is increasingly aware of the fluidity of gender.
Maria Grazia Chiuri's star-studded Dior show takes Paris Fashion Week on a sensory dance
In the Margiela film, narratives by six women echoed around the Grand Palais show venue, including by model Hanne Gaby Odiele who publicly came out as an intersex woman last year.
In the film, Odiele explains her struggle with "characteristics that don't really [fit] the definition of female or male … a lot of people live with it alone and in secrecy, and feel very ashamed".
Marras tells a story while Etro and MSGM go for colours at MFW
Odiele said: "The first thing you hear when you're born – 'It's a girl' or 'It's a boy' … this is my mutiny."
Odiele modelled in the show, walking proudly down the runway in a double-breasted satin suit to cheers and applause.
OFF-TARGET DEBUT FOR COURRÈGES' DESIGNER
Courrèges's collection show marked the debut of Zobel, a media-shy French-German designer whose appointment at the French brand was announced in February.
K-pop star Jessica Jung makes first catwalk for Dolce & Gabbana at MFW
Although Zobel previously worked "behind the scenes" at Jil Sander and Acne Studios, little is known about her previous work.
Wednesday's show had a lot to prove – given the storied history of the brand that was founded in the 1960s and famed for its signature miniskirt and space-age designs.
After years in the wilderness, the house was relaunched in 2015 to critical acclaim.
Yet Zobel's efforts did not quite hit the mark.
The designs nicely captured the signature sanitised feel of the house – such as one neat white thigh-high coat with sheer panel underneath.
Karl Lagerfeld's Fendi creations honour stylish 'urban jungle' women at Milan Fashion Week
Loose yellow and white 1960s shorts cut a fine ensemble with an off-white silk top with circles over the breasts.
But Zobel grappled with too many ideas – in style, silhouette and detailing – and it sometimes came off too busy.
For instance, a dramatic steel blue A-line anorak was paired with black Mary Jane shoes on a model wearing cyclist's sunglasses and patterned tights.
It felt like the talented Zobel was trying too hard.
DRIES VAN NOTEN'S ODE TO FLOWERS
As bright as a bloom in spring.
Miuccia Prada mixes 'freedom dream with conservatism' at Milan Fashion Week
Belgian master Dries Van Noten fashioned up a fluid collection of sumptuous floral-inspired clothes that moved in a softer-than-normal direction.
What the house called a "decisive" and "fresh" colour palette translated as sunflower yellow, white, cadmium and powder blues, florals and earths.
And the flower theme cross-pollinated to the garments.
Loose tops unfurled like a flower at the hem, and sometimes sported droplet embellishments that resembled petals.
Prints featured botanical images.
While the natural markings of danger – contrasting colour and white stripes – appeared in black supple silk skirts and in a blue menswear jacket and assorted dress.
Has Riccardo Tisci's Burberry show at LFW rejuvenated the brand
The latter had an all-enveloping quality that made it look as if blue and white stripes had been left organically to grow over the model's body.
["Source-scmp"]