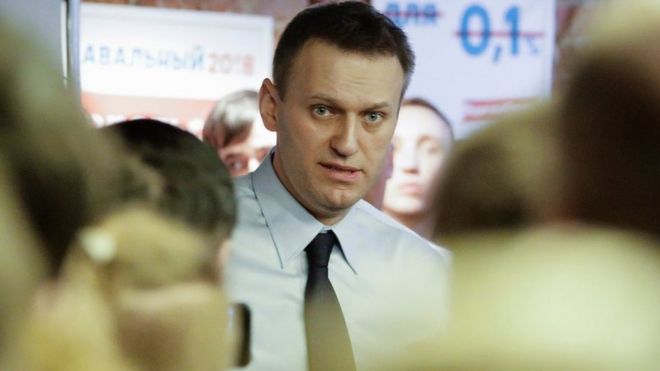 Russia's main opposition leader, Alexei Navalny, has been found guilty of embezzlement and handed a five-year suspended sentence.
It bars him from running for president next year against Vladimir Putin.
But Mr Navalny, who denies the charges, has vowed to take part in the race regardless. It was not immediately clear if this was legally possible.
His conviction came in a retrial after the European Court of Human Rights ruled the first trial to be unfair.
The court in the provincial city of Kirov found Mr Navalny guilty of embezzlement in relation to a timber company called Kirovles, for which he was also handed a 500,000-rouble ($8,500; £6,700) fine.
Russian media debate Navalny's fate
---
Is he a threat to President Putin?
Mr Navalny, 40, is known for his anti-corruption campaign, which targeted senior officials close to the Kremlin. He says the case against him is an effort to keep him out of politics.
He had recently stepped up his political activity after announcing plans last year to run for the presidency in 2018. Mr Putin is allowed by the constitution to run for a second consecutive six-year term, but he has not said yet if he plans to do so.
Mr Putin has already served three terms as president in total but just two of those consecutively.