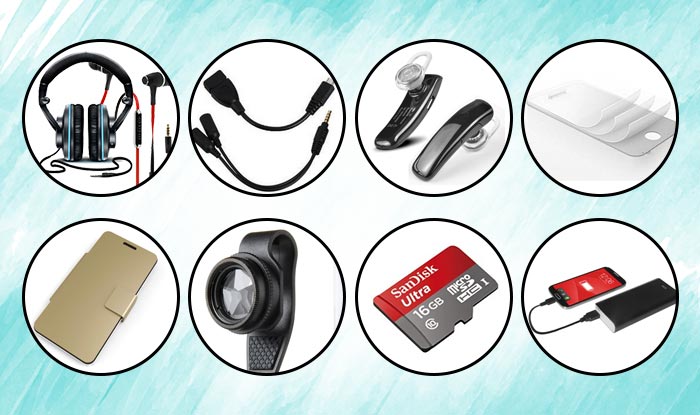 Smartphones are one of the most common gadgets that we use in modern times. With advances in technology, smartphone users are demanding mroe and more from their gadgets. The smartphones have become a one-for all device. They have replaced cameras, music players, video recorders and every other gadget you can think of. In the present time, smart phone users demand more and more functionality in their device so that they can avail the advantage of advanced functionalities with their smartphones. And along with smartphones, users also pay a lot of attention to accessories that they use with their devices. The market for smartphone accessories have grown exponentially in the past few years and from budget accessories to accessories that can cost more than your premium smartphone itself – there's everything in the market.
However, when it comes to buying accessories, you need to be careful. There are a lot of pointers that need to be remembered as not all accessories are suitable for every smartphone. An accessory can make or break the experience you're having and investing in the wrong accessory, especially if it is expensive can really take away from the experience. Also, with so many options being present in the market, you really do not know which way to turn and have to sometimes try your best to not get tempted and buy everything you see! Always remember that purchase of smartphone accessories can enhance the functionality only when they are selected accurately. You need to make the selection of accessories very carefully so that you can get best results of mobile accessories purchase. Here's how you can choose the best accessory for your mobile!
1. Money Matters : As mentioned above, the smartphone accessories market is huge and vast. You have accessories across multiple price points. While deciding to buy an accessory, you need to first fix your budget. Once you have a budget in mind, choose an accessory accordingly. Try not to get tempted or over-indulge in something you might regret laer. Always remember, with accessories, you can invest in multiple ones instead of sticking to just one and also, you can change them regularly. Make a smart and informed choice and don't purchase accessories based on just your whims and fancies. Also, if you have a budget phone, don't really buy top of the end accessories for it as at times, they might not even be compatible with your device and vice versa. Just plan in advance and buy accordingly. Want to know if your smartphone will be getting the Android Nougat upgrade? Check this list!
2. Quality is imperative : According to LatestOne.com, India's leading tech and mobile accessories e-tailer, "There are some accessories that will cost you very little but the features usually attract customers to purchase these accessories even when the accessories are not branded or trusted. You need to make sure that the accessory is branded or semi-branded and durable. Features will not be of any use if the accessory does not have the advantage of quality and durability. This is a necessary aspect while choosing mobile accessories." Sometimes, people buy a top notch gadget and then balk while looking at accessory prices. For example – iPhones. iPhone accessories are premium and expensive and hence, people sometimes prefer fakes. This can even spoil your device and lead to ugly complications for you.  Google Pixel phones face LTE issues, Indian worried their JIO SIM won't work on Pixel!
3. Branded / semi-branded / unbranded : There's something for everyone. The most common ones over here are headphones. While you have headphones retailing by the roadside in India for as low as Rs 30, you have premium, good quality sheadphones that can cost you in thousands. While you might be on a budget and cannot afford the big brands, remember, it is not always the big brands that are good. Sometimes, even smaller brands or non-branded goods can give you great value for your money. However, when buying brands you haven't heard of before or are not very aware of, do your research. Just because it is unbranded does not eman it is bad but itdefinitely does not mean it is safe either. Let the first 2 points decide in favour of the accessories.
4. Features and functionality : Always check a list of features and functions that your accessory comes with. Soemtimes, accessories can double up as multiple things or you can get accessories with multiple functions at approximately the same price. For example: if looking for a flash drive, why not buy a drive that comes with OTG or On The Go along with a card reader? It can instantly give you multiple functions too. There might be additional features also that are inbuilt into your device, like a interchangable collar for your headset or headphones with volume buttons, etc. Check all options in the same price range and then buy the one seems the best to you. Is the new Indian Rs 2000 note a technological marvel with a traceable magnetic strip, not GPS chip, running through?
5. Warranty & Product Return : When you will look for functions and brand of the product, you must not forget to look for the warranty of the product. Warranty will give you an assurance of product durability. The suitability of the product purchase is usually determined with its cost and quality but another most important thing is return policy of the product. Every product has different return policy as per company's terms. Therefore, you need to check the return policy of company before you make your decision.
6. User Friendly : Along with price and quality, checking for user friendly features of a product has its significant impact on making a decision to buy. For instance, a smart watch cannot be called smart if it does not have user friendly product design and features. A USB pen drive with an additional feature of key chain holder, adds convenience to carry. Whether it is basic or additional feature, a user friendly product saves time and adds value to money. If you're shifting from one brand to another, this becomes the key as the funtions in the newer brand might be different and put you out of your comfort zone
7. Watch Unboxing And Demo Videos and Read Reviews : Finally, when you are almost satisfied with the product, you can watch unboxing and demo videos to see what the actual experience of product use is. Videos will help you to get the most accurate details about pricing, features, pros and cons. However, if you are absolutely convinced about a product and come across a negative review, don't be disheartened. Check other reviews too and see if the negative points in the review are for the entire product or some features which might not make a difference to you. Like, if you're buying a new zoom lens for the smartphone camera, the reviewer might not be happy with the way it fits or the way it looks. But if those don't matter to you, then go right ahead and purchase it!
[Source:-India]